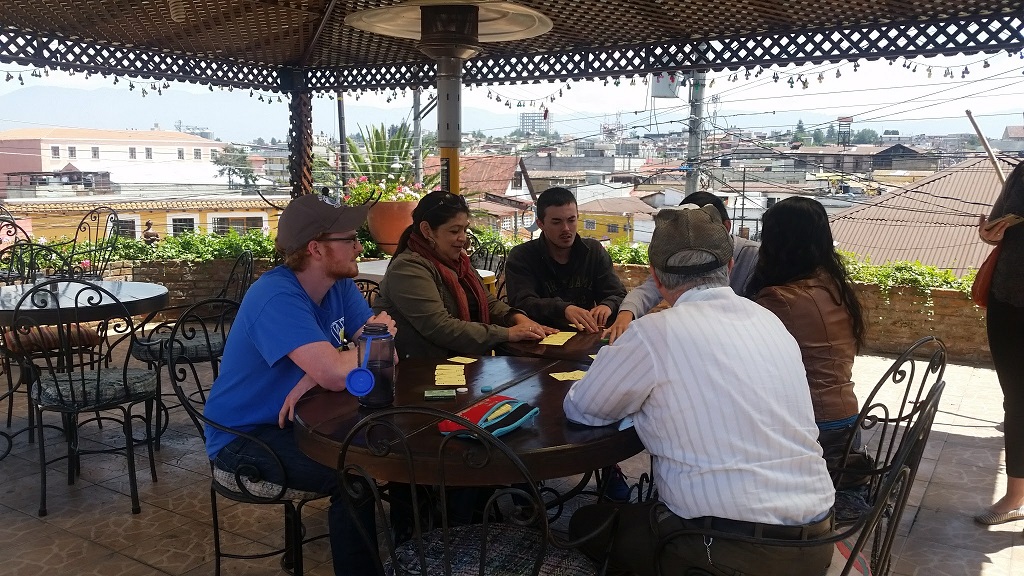 Our Spanish Immersion in Guatemala program gives you the opportunity to study and practice Spanish while living with a local host family and joining one of our volunteer projects in Guatemala. You can join our Spanish Immersion in Guatemala program in the cities of Antigua and Quetzaltenango. Spanish lessons are provided by experienced professional teachers on a one-on-one basis. Teachers design lesson plans with your input so you get the most out of the program. Occasionally there are group Spanish lessons (as pictured above in Xela).
Spanish Immersion in Guatemala
Program Overview
Project Length: 1 – 12 weeks
Start Dates: Every Monday, Year-round (except Easter/Xmas).
Program Cities: Antigua or Quetzaltenango ("Xela")
Arrival City: Guatemala City (GUA)
Accommodations: Guatemalan host family
Meals: 3 per day Monday-Friday, 2 on Saturday, none Sunday
Schedule: Monday-Friday. Spanish Classes in AM / Volunteer in PM*
Free Time: Nights & Weekends Cultural Exploration + Excursions
Requirements: Ages 16+ solo; Under 16 with teacher/parent
Languages: None required
* Choose one of our Volunteer Programs in Guatemala
Program Fees (USD $)
1 Week:$995
2 Weeks: $1125
3 Weeks: $1245
4 Weeks: $1355
5 Weeks: $1480
6 Weeks: $1595
7 Weeks: $1720
8 Weeks: $1845
9 Weeks: $1965
10 Weeks: $2075
11 Weeks: $2195
12 Weeks: $2315
Spanish Classes: add $15 per hour (max 4 hours per day)
What's Included
Airport Pickup
Meals and Accommodations
Meaningful Volunteering Placement
24 Emergency Assistance from local staff and US staff
Orientation & Tour on arrival
Pre-Departure Guidance & Support
Supervisor/Mentor at volunteer placement
Volunteering Handbook
Guidance with Excursions
Cosmic Volunteers T-shirt
Certificate of Participation
An experience that will last a lifetime!
Not Included: Flights, Visa, Vaccinations, Insurance, Language Classes.